Available Now OnDemand

Available Now OnDemand

Available Now OnDemand

Available Now OnDemand

Available Now OnDemand

Available Now OnDemand

Available Now OnDemand

Available Now OnDemand
News
5/15/13: We're Moving!
We are moving the office and will open up on 579 Main on Monday May 20th.
5/13/13: MTC Cable Broadband Survey
Please fill out this important survey if you live within the Towns of Conesville, Gilboa, Halcott, Middletwon, or Roxbury and do not have broadband internet access (DSL or cable modem) available to your residence. It is important that you complete and submit this survey by May 24, 2013.
To fill out the MTC Cable rural broadband survey please go to the following links:
For residence/business in the following communities of Town of Halcott, Middletown, and Roxbury, please visit www.markproject.org and follow the Broadband Survey tab on the home page.
For residence/business in the following communities of Gilboa & Conesville please follow the www.westerncatskills.org link details.
History:
The M-ARK Project and Western Catskills Community Revitalization Council are working in collaboration with MTC Cable (MTC) to conduct this broadband survey. MTC was notified on March 5th, 2013, it had been selected for grant funding through the Connect NY Broadband Grant Program to extend broadband facilities into areas of the community currently un-served. The matching grant funds are limited in scope making it extremely important to identify those residents who truly desire broadband service. The survey responses will be used to direct these limited funding resources to locations where there is a significant need for broadband.
For the purposes of this survey, broadband is a term used to define wired high-speed access to voice, internet, and video services with the focus on Internet Services.
4/22/13: Effective May 15Th Mtc Cable Line Up Changes
MTC Cable will be moving the following channels to our digital format on May 15th.
The channels are Ch 43 Animal Planet, Ch 44 HGTV, Ch 45 Food Network, Ch 46 TV Land, Ch 47 Syfy, and Ch 48 Comedy Central.
Customers that have an analog TV and you would like to continue to receive the above channels will need to schedule to have a MTC Converter Box installed.
Customers with a digital TV will need to "rescan" or "channel search" to receive the channels.
For more information you can review the "News" post from 3/1/13 or contact our business office at 845-586-2288.
3/1/13: MTC CABLE CHANNEL LINE UP CHANGE EFFECTIVE JUNE 3rd
Effective June 3rd, all channels in the MTC Local and Family Packages (Channels 2-85) will be delivered in digital format. At that time, only channels 2-40 will remain available in an analog format and still viewable with a non-digital (analog) television set (* See definitions below). Depending on your subscription package and type of television set, you may need to take one of the steps below to insure that you will continue to receive all programming offered within your subscription package:
Analog or Digital Television Set connected to MTC Converter Box: No action is required. The converter box will continue to receive the digital signals and convert them for viewing on either style of television set.
Digital Television Set connected without MTC Converter Box: A "re-scan" or "channel search" function will need to be performed on your television set to re-learn the new digital channel line-up. This is the same function which was performed initially when the TV was first connected to Cable allowing the television to learn the current channel line-up. After this scan has been successfully performed, the stations will be viewable on their previous channel number except for a "-1" after the channel number (ie: The Learning Channel is currently located on Channel 42. After a re-scan on June 3rd, The Learning Channel will be viewable on a digital television on Channel 42-1).
Analog Television Set connected without MTC Converter Box: After June 3rd, only channels 2-41 will be viewable. To continue receiving all of the channels in the Family Package, please contact our Customer Service Department and schedule the installation of a digital converter box prior to the June 3rd conversion date. The monthly lease fee of $3.95 per month will be waived until August 1st and a free installation will be offered to subscribers who call before May 15th to schedule this installation.
* For the purposes of this correspondence, the following definitions apply:
Analog Television Set: A television set manufactured prior to 2009 utilizing a rounded picture tube. These television sets cannot receive digitally transmitted television signals without a converter box.
Digital Television Set: A television set manufactured since 2009 utilizing a flat panel display. Most of these television sets contain a digital tuner capable of receiving both digitally transmitted and analog television signals. A converter box is not currently required to receive digital channels within the MTC Local and Family Programming Packages.
This transition to a digital television line-up is necessary to accommodate the new products and services only available using digital transmission technology. Besides the improved picture and audio qualities of a digital signal, the conversion will enable the future roll-out of additional channels in high-definition, expanded video-on-demand programming and whole-house digital video recorder (DVR) service. Please contact our Customer Service Department at 586-2288 or (877) 727-2288 concerning any questions regarding this technology change or to take advantage of our free converter installation offer (if required) as soon as possible.
3/7/13: Margaretville Telephone Company Regional Directory
Are you interested in advertising in the 2013-2014 Margaretville Telephone Company Regional Directory? We believe you will find the new directory to be of higher quality and appeal, thus increasing the value and effectiveness of your directory advertising. The representatives of Hanson Directory Service have our permission to solicit advertising for our July 2013 directory issue, and will be contacting you soon. Advertising for the directory needs to be placed prior to April 5, 2013 to make the July 2013 directory. The directory will be sent out to area residents in July 2013.
If you have any questions or would like to verify the authority of the representatives contacting you, please feel free to call our business office at (845) 586-3311 or toll free at (800) 586-3387. If you would like to contact Hanson Directory you can reach them toll free at (800) 622-0034.
Thank you for your patronage and continued advertising support in the Margaretville Telephone Company Regional Directory.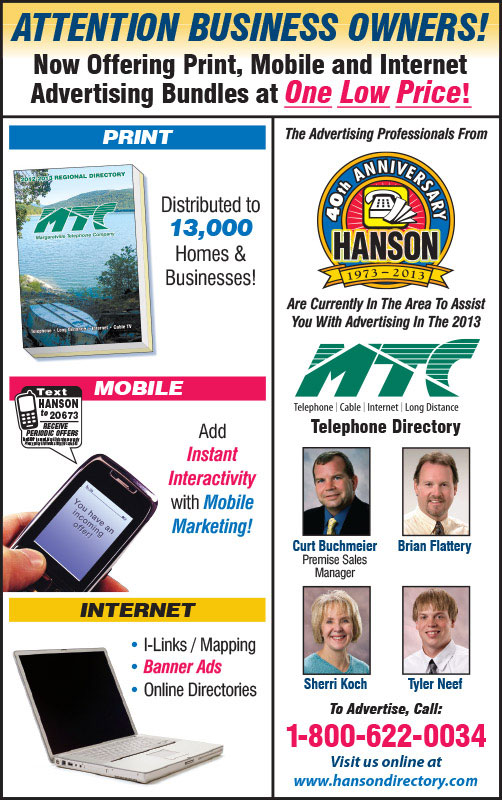 Level 3 Will Make a Nearly $1 Million Voluntary Contribution As Part of First Settlement of a Rural Call Completion Investigation
Washington, DC – Level 3 Communications, LLC, resolving an investigation into the company's rural call completion practices, has agreed to meet rigorous, verifiable call completion standards and to provide extensive records that will assist FCC enforcement of rules protecting against failed calls to rural areas. Level 3 will also make a $975,000 voluntary contribution to the U.S. Treasury, and has agreed to make additional $1 million voluntary contributions going forward if it misses specified quarterly benchmarks.
FCC Chairman Julius Genachowski said, "When calls to Americans in rural communities aren't reliably completed, the consequences are both life-threatening and damaging economically. As today's action shows, resolving this complex problem is a major priority for the FCC. We will follow the facts and data, and we will hold responsible parties accountable."
Enforcement Bureau Chief Michele Ellison said, "Basic long distance phone calls are failing in many areas of rural America at alarming rates. This is unacceptable. Rural residents and businesses should be able to receive a work-related or emergency call with the same reliability and call quality as others do."
Ms. Ellison added, "Through this settlement, Level 3 has committed to tackle this issue head-on, agreeing to adopt tough, new call completion benchmarks, to back these standards with significant noncompliance penalties, and to disclose critical data that will assist the Bureau in other ongoing investigations. We are aggressively pursuing this problem wherever it leads, and there will be significant consequences for those companies that are not fulfilling their obligations to rural America."
In its consent decree with the Enforcement Bureau, Level 3 has agreed to:
Complete long-distance calls to incumbent local exchange carriers in rural areas at a rate within 5% of that in non-rural areas over a two-year period.
Report compliance with the 5% benchmark every quarter, beginning in January 2014.
Pay an additional $1 million voluntary contribution if it misses the 5% benchmark in any quarter.
Develop scorecards for intermediate providers that Level 3 uses to route calls, assessing their performance in the areas of post-dial delay in connecting calls, network failure, and call completion rates.
Identify problematic routes to intermediate providers monthly.
Cease using poorly performing intermediate providers.
Assist the Enforcement Bureau in other investigations by providing data concerning the performance of intermediate providers.
In general, rural call completion failures appear to be caused primarily by long-distance carriers or intermediate providers attempting to reduce the intercarrier compensation paid to local telephone companies for completing long-distance calls to a rural home or business. To minimize these charges, providers often use third-party "least-cost routers," which attempt to connect calls at the lowest possible cost.
The FCC has been working on many fronts to address this complex and technical problem. In February 2012, the Wireline Competition Bureau laid the foundation for today's settlement by clarifying that a long distance provider violates the Communications Act if it knows or should know that it is providing degraded service to certain areas and fails to correct the problem. Last month, the Commission proposed industry-wide data collection and reporting rules to enable the FCC to better monitor the performance of long-distance carriers in rural areas. These new reporting requirements, coupled with access to Level 3's data, should strengthen the Bureau's enforcement capabilities. Over the long-term, the FCC's November 2011 Universal Service/Intercarrier Compensation Transformation Order is phasing out intercarrier fees, which will dramatically reduce financial incentives that appear to be driving call completion failures.
"This settlement reflects hard work and tenacity by the staff and meaningful cooperation by Level 3," said Ms. Ellison. The FCC continues to work closely with all stakeholders to resolve the problem as investigations continue.
Enforcement Bureau Staff Contact: Christopher Killion at 202-418-1711 or Margaret Dailey at 202-418-2396.
-FCC- News about the Federal Communications Commission can also be found on the Commission's web site www.fcc.gov.
MTC Cable awarded $1,800,000 in grant funding to extend High-Speed Internet Services to un-served residents
MTC Cable (MTC) has been awarded 1.8 million in matching funds as part of the Governor's Connect New York Broadband Grant Program to extend broadband access into the un-served segments of the Central Catskills Region.
MTC Cable, in collaboration with the MARK Project, Western Catskills Revitalization Council, Catskill Watershed Corporation, and Local Municipalities, proposes to construct over 100 miles of fiber optic facilities during the next two years for extending the availability of broadband and other advanced telecommunications services into the un-served regions of the Towns of Conesville, Gilboa, Halcott, Middletown, and Roxbury.
The grant award, along with a prior funding commitment by the Catskill Watershed Corporation, will match up to 2 million dollars of direct MTC investment to address the lack of broadband services into the rural segments of the community. The expansion effort is anticipated to take two years to complete and will extend a suite of telecommunications services (broadband, cable television, and telephone) to an estimated 900 homes and businesses when complete.
MTC General Manager, Glen Faulkner, explains "This is a huge step forward in addressing the lack of broadband availability in the very rural segments of our community. MTC has been working with its partners over the past three years exploring grant opportunities necessary to fund the extension of broadband service to the un-served residents. We understand the economic disadvantage the lack of adequate broadband services brings to a community and was very pleased that our project was chosen for funding under the Governor's Connect NY Broadband Grant Program. Although this initiative does not provide the funding resources to be all-inclusive and enable broadband offerings to all of the residents living within un-served regions, it is anticipated that a vast majority will be served when the project is completed."
MTC will be working with its project partners to conduct a survey of the community residents to identify those with an immediate need or desire for broadband service. Feedback from the surveys will be used to establish priority build-out areas for the project.
Further announcements concerning project details will be made available over the next few months.
10/25/2012: VIEW & PAY YOUR MTC BILL ON LINE
MTC customers can now view your monthly bills and make your payments from the link below.
Before you click the link you will need your new MTC account number and you will also need your password on your MTC account. If you are not sure what this is you will need to contact our business office for this information.
When you click on the link you will be directed to the secure SMART HUB link to be able to sign up for the online service.
The first time you need to log in under the part that says:
"New User? Sign up to access Self Service site"
Under the New User Registration fill out your MTC Account number and your Last Name or Business Name. (From your MTC bill.)
After you hit submit you will see a message that says: "To register as a new user, please enter the following information so that we may access your account."
You will then need to answer the questions and type in the encrypted characters. Hit submit. This part of your registration is complete.
You will then receive an email with a temporary password. Click on the login button in the email. Type in your temporary password and then you will go to the window to create your own password. Your password will need to be at least 4 characters, include both letter & numbers, and may include special characters. It will also show you your password strength. This will be the password to sign in on your on line account moving forward. Next you will be asked to set up a Security Passphrase. This will need to be 5 characters and will show when you are signed in on your account. Once this is completed, you can view your bills and payment history since September 2012.
You will now have the option to sign up for recurring payments. The recurring payments will be done on the 15th of every month or the following business day.
When you click on the link below you will be directed to the SMART HUB site to get started.
https://mtctelcom.smarthub.coop/
IMPORTANT LOCAL RATE INFORMATION 10/24/12
The Margaretville Telephone Company has been granted an increase of $2.00 to our basic local exchange telephone rates by the New York State Public Service Commission. The rate increase will be effective 12/1/12. If you have any questions concerning this rate adjustment please contact our business office at 845-586-3311.
10/09/2012: MTC Job Fair!
Thurs. Oct. 18th 6PM - 8PM & Sat. Oct. 20th 9AM - 11AM
50 Swart Street Margaretville, NY
MTC is a provider of telephone, broadband, cable television, and fiber optic based communications services throughout the eastern Delaware County region and has immediate job openings for:
Customer Service Representative
Installer / Service Technician
Please stop by our offices to pick-up an application or to inquire more about these exciting career opportunities. MTC is an EOE employer and complies with a drug-free workforce.
6/29/2012: New Updates!
On July 2nd HD Net channel 417 is changing its name to AXS TV. AXS TV is your LIVE source for anything and everything happening now in pop culture, music, fashion, and more. The future of TV is AXS TV, providing you LIVE Updates wherever unique happens!
Coming July 10th to MTC Cable Disney Jr (Ch 74) and SWRV TV (Ch 900).
Disney Jr is the new home for Playhouse Disney and Disney Preschool. Find fun videos, games, activities, and more!
SWRV TV is the first 24/7 interactive music video network where you decide what plays next. Watch the hottest videos from your favorite artists and take control. Ch 900 SWRV TV - www.musicchoice.com/swrv/
MTC toll rates will be changing on your September 1st billing. You can view the current MTC toll rates on our website at mtctelcom.com
6/20/2012: MTC is Growing!
The Margaretville Telephone Company (MTC) has recently purchased the office building at 579 Main Street in Margaretville previously occupied by Rettew Engineering with plans to extend its Customer Service operations to the location by the end of the year.
General Manager, Glen Faulkner explains "MTC has been exploring options to address the shortage of office and parking space at their existing office facilities on Swart Street for several years. As part of our reconstruction efforts from the damages sustained during Hurricane Irene, these issues were once again brought to the forefront."
In completing our post-flood evaluation, it was determined that the Central Office Building, which houses the critical telephone, internet, and cable television equipment, remained operational and could be kept dry during similar flooding events in the future. Although Irene's flood waters came within inches of causing a catastrophic network failure, new flood prevention modifications will be included as part of our renovation project. The Management and Board of Directors felt very strongly the desire to remain in the Village of Margaretville as long as we were confident we could sustain network operations during a future repeat of the Irene flooding.
The Margaretville Telephone Company has maintained a presence in the community since its inception in 1916 when offices were located in a residential house also located on Swart Street.
The present central office building was erected in 1961 and a second administrative and garage facility was added in 1974. A renovation project after the flood in 1996 converted the garage space into new offices and relocated the garage to the MTC warehouse facility located on Margaretville Mountain Road. At that time, the expanded office space was necessary to accommodate the Company's growth in Cable Television and Internet businesses.
The purchase of the 579 Main Street property earlier this spring presented a unique opportunity for MTC, notes Faulkner. The property adjoins to the back of our existing office buildings providing a natural expansion of operations, parking, and offices. As we learned of Rettew Engineering's desire to relocate from the building which they have leased since 19xx, an opportunity arose to purchase the property. We anticipate that the move of our Customer Service Department onto Main Street will provide more convenient access for our customers. A subsequent benefit will be the reduction in traffic along Swart Street which is primarily a residential street.
We are eager to become a part of the Main Street business community and look forward to working alongside neighboring businesses to promote Margaretville's Main Street.
6/7/2012: New Additions to our HD Programming Package!
MTC Cable introduces the addition of the following channels to its high-definition programming package: Nick HD (Channel 430), TLC HD (Channel 442), Comedy HD (Channel 448) & Destination America (Channel 495)
5/18/12: Planet Green will turn Red, White & Blue May 28th
Discovery Communications announced today that Planet Green will turn red, white, and blue when it is re-named Destination America on Monday, May 28, 2012.
Kicking off Memorial Day weekend, the unofficial start of the summer season, Destination America will be the first network to celebrate the people, places, and stories of the United States, emblazoned with the grit and tenacity, honesty and work ethic, humor and adventurousness that characterize our nation. The inclusive network, targeting Adults 25-54, will be available in 59.5 million homes and feature original series covering such diverse subjects as American food from Tex Mex to barbeque; American mysteries from Jesse James' lost fortune to Area 51; America's heroes from those who embody the values of our past to those who invent the technology of our future; as well as never-before-seen footage of America's iconic landmarks, including Yellowstone National Park and the Everglade swamps.
3/27/12: Changes to Channel Line-Up
Effective April 1, 2012, MTC Cable will have the following changes to our channel line up.
Lifetime Movie Network will move from Channel 109 to Channel 84 & C-SPAN 2 (US Senate coverage) will be added to Channel 85
A digital converter or digital ready television will be required to receive Channel 84 and 85. Please check our website mtctelcom.com for other channel changes and updates to our line up.
3/16/12: Long Distance Call Completion Problems
a Nationwide Issue...
Recently, we have been hearing from customers that some incoming calls being made to them are not being completed. In other instances, they are receiving calls with very poor voice quality or echoing. These problems have been very inconsistent, making them difficult to troubleshoot. This is a major issue of national scope dealing with the way many long distance providers are routing calls to rural providers. Please be assured, this issue is not within our network. The problem starts with the long distance carrier used by the customer who places the call. We are making every effort to work together with our national and state telecommunications associations and the Federal Communications Commission (FCC) to resolve this issue.
What can you do? If someone attempting to call you experiences any issues with completing the call or poor call quality, we encourage you to report these details by contacting our Customer Service Department at 586-3311 with the information below. The long-distance carrier used by the person trying to reach you.
The time that the call was placed and phone number from which the call originated.
The person trying to reach you should also contact their provider with the same details.
While the issues are not with our facilities, Margaretville Telephone Company commitment to our customers remains the same. We will continue to do everything in our power to provide you with premium service and to ensure that outside carriers meet their responsibility to deliver calls to our network so we can, in turn, deliver those calls to you. Thank you for the privilege of serving you!
2/21/12: Madison Square Garden Network has returned!
The high-definition feeds of the Madison Square Garden Network (MSG) and Madison Square Garden Plus channels (466 and 467 respectively) have been restored to the MTC Cable line-up effective 2/17/12. A settlement between Time Warner Cable and MSG of their carriage dispute enables Time Warner Cable to re-establish the transport feed to MTC. We apologize for this interruption in service.
2/8/12: TV Guide Upgrade
MTC Cable announces an upgrade to the electronic program guide (TV Guide) operating on digital converter boxes. The new feature enhancements include two lines of program info, new search and discovery options, "hot-button" to HD programming, and new DVR folder options to better manage your recordings. For a complete summary of the new feature enhancements, please click here.
2/8/12: MTC looks to expand services into three nearby municipalities
MTC Cable has entered into negotiations with the Towns of Halcott, Gilboa, and Conesville for cable television franchises necessary to begin providing cable television services within the Municipalities. Public hearings will be scheduled in the coming months to seek public input on these non-exclusive franchise agreements within each individual Municipality. Once approval has been granted by the Municipalities, along with the NYS Public Service Commission, MTC Cable will begin to construct a fiber optic network to deliver voice, video, and internet services to residents and businesses along pre-established areas within the towns which meet the 15 homes per mile requirement from existing MTC Cable facilities. MTC continues to work with the Municipalities to seek additional funding assistance from the Regional Economic Development Councils and other agencies to provide the funding necessary to build facilities in areas which do not meet the 15 homes per mile density.
1/26/12: Introducing THIS TV
MTC Cable will be launching THIS TV effective 01/27/12. THIS TV will be temporarily located on Channel 12. THIS TV channel brings you award winning films, box office hits, cult classics, retro TV series and all your favorite Hollywood stars!
1/3/2012: Programming Notice
MTC Cable has removed (Channel 12 – Binghamton) from its channel line-up effective January 1, 2012. To date, MTC has not reached a Retransmission Consent Agreement with the Station's ownership (Granite Communications) necessary for continued carriage. CBS programming will still be available on WRGB (Channel 6) and Binghamton area news will still be available via WICZ (Ch. 14) and WIVT (Ch. 15).
Renewal of Retransmission Consent Agreements is required every three years between cable operators and broadcast networks in which terms of carriage are negotiated. Unfortunately, payment terms are usually the main obstacle. MTC has reached agreements with all other broadcast network stations, however Granite Communications is seeking a 300%+ increase in fees which we feel totally unacceptable. Why should MTC Cable and its subscribers have to pay such a premium to provide a signal to its customers who in some areas can receive the signal free with an off-air antenna? Or, if the station cannot be received by a resident with an antenna, why should MTC pay a premium to extend the range of the broadcast signal?
MTC remains hopeful that a mutually beneficial Agreement can be reached over the next few weeks. Thank you for your patience and understanding!
Universal Sports Network (channel 111) has changed its distribution method effective 12/31/11. The channel will be off the air temporarily.
The High-Definition feeds of MSG and MSG Plus (Channel 466 and 467) will be off the air as a result of the carriage dispute between Madison Square Garden Networks and Time Warner Cable. Time Warner Cable transports these signals from MSG to our facilities. The Analog channels 66 and 67 are not affected by this signal blackout. We are hopeful for a quick resolution and apologize for this inconvenience.
12/23/2011: Channel Changes & Updates
Versus (Channel 72 & 472) will be renamed to NBC Sports Network on January 2nd, 2012.
As of this date, MTC Cable has reached new Carriage Agreements with most of the Broadcasts. At present, MTC Cable has not reached a deal to extend the Carriage of WBNG (Channel 12 Binghamton) and will be required to remove the channel effective December 31st, 2011.
12/12/2011: Network Broadcaster Rate Increase
Network Broadcasters are demanding huge increases in rates from cable and satellite companies. Most local broadcasters are now owned and operated by large conglomerates such as Sinclair Broadcasting and Granite Broadcasting. These companies are demanding rate increases as high as 200% to 300% from cable companies such as MTC for programming which is free if you live in an area which can receive the stations with an antenna.

Go to the American Television Alliance to see how you can help to voice your concern.
12/12/2011: Me-TV Coming to MTC December 21st
MTC Cable will be launching Me-TV (channel 21 or 21.1 for digital televisions) on December 21st.
Me-TV stands for Memorable Entertainment Television. The network showcases classic shows from the 50s through the 80s. You will see some of the best shows ever made for television, all in one place, presented with respect for the programs and its viewers.
Me-TV features a wide range of classic television programming, some of the best programming written for television, that audiences and advertisers find comfortable and engaging. Its library includes series from Twentieth Century Fox Television Distribution and CBS Television Distribution as well as independent series owners and producers. Some of the comedies on Me-TV are: M*A*S*H, Cheers, The Mary Tyler Moore Show, The Dick Van Dyke Show, I Love Lucy and The Bob Newhart Show. Dramas on the network include: Perry Mason, The Untouchables, The Big Valley, the original Star Trek and the original Hawaii Five-O series.
12/12/2011: AMC in HD coming to MTC December 21st
On December 21st, MTC Cable introduces the addition of AMC High Definition (channel 463) with the popular original series Madmen, Walking Dead and Hell on Wheels in HD.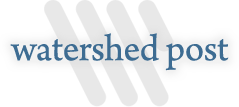 Contact Us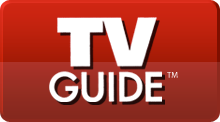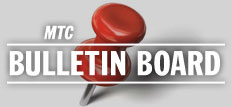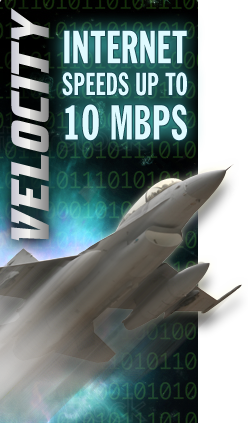 View More
Designed for video streaming, gaming and multiple users